Bungie Aerospace was Bungie's non-game division created in 2011 designed for Bungie to partner with small, independent developers to launch their mobile and social games.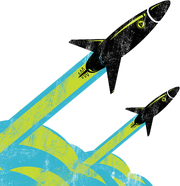 "Bungie Aerospace gives studios the creative freedom and the resources they need, like access to the Bungie.net platform and an audience with the incredible Bungie community, to launch entertainment experiences into orbit and to satisfy their own thirst for world domination."[1]
Each Bungie Aerospace project would have been tailored to the needs of each team and project, including: financial resources, access to Bungie's community, PR and marketing support, QA-testing and user research, release management support, and technology and expertise for web, servers, database, and back-end servers.
The division was shrouded in secrecy until June 30, 2011, when Bungie released an official press release.[2] Prior to 2011, speculation was the the name was Bungie's next video game, a rebranding of the studio, or a new game engine.[3][4][5]
At the end of 2010, the website www.bungieaerospace.org appeared on the web with a countdown timer and the word "Tru7h" linking back to Bungie's website.[6][7]
As of September 2021, Crimson: Steam Pirates is Bungie Aerospace's only published game. The name "Crimson" was trademarked by Bungie Aerospace on May 4, 2011.
Press Release
Creators of Halo Establish Bungie Aerospace
Bungie Ignites Commitment to Independent Developers

Bellevue, WA (PR Web) June 30, 2011 – Today Bungie launched the first phase of a new venture, Bungie Aerospace, created to help independent developers create brilliant mobile and social games. Bungie Aerospace will give studios the creative freedom and the resources they need, like access to the Bungie.net platform and an audience with the incredible Bungie community, to launch their entertainment experiences into orbit.

"Bungie has always been passionate about making and playing great games, regardless of platform," said Pete Parsons, Bungie COO. "Bungie Aerospace will allow us to explore game creation in multiple formats with some amazingly talented teams. Now that we've returned to our roots as an independent studio, we are in a position to launch Bungie Aerospace to support, foster, and elevate like-minded, independent developers."

Bungie Aerospace's first official partnership is with Seattle-based developer Harebrained Schemes, helmed by Jordan Weisman, the creative mind behind Halo 2's "I Love Bees" Alternate Reality Game, FASA Interactive, Wizkids, the MechWarrior and Shadowrun universes, and dozens of other creations and companies. The studio's first mobile gaming title, "Crimson," is set to launch this summer on iOS and Android devices.

More details about Harebrained Schemes' first mobile title developed under the Bungie Aerospace banner will be available in the weeks to come.

About Harebrained Schemes
Harebrained Schemes is a small group of wildly talented people, crammed into a closet, making whatever cool thing inspires us next.

About Bungie
Bungie was originally founded in 1991 with two goals: to develop games that combine brilliant storytelling, beautiful art, and deep gameplay, and then to sell enough copies of those games to fund the studio's real goal of world domination. For the last twenty years the studio created a series of genre-defining titles, including the Halo universe. Today, Bungie is fully focused on bringing the best gaming experiences to millions of gamers worldwide through the creation of their next big action universe.

More information about Bungie can be found at www.bungie.net. (This is where you are right now!)

More information about Bungie Aerospace can be obtained from http://www.bungieaerospace.com.
External Links
Bungie.net's Aerospace Project Page
Bungie Aerospace Official Website
CRIMSON trademark status
Resources