The subject of this article is

Bungie Lore

; one of the many myths, legends, and easter eggs that have been created by Bungie.


"Leave me alone. You're interfering with my slow crawl towards infinity."

~ Disembodied Soul

The Disembodied Soul is one of Bungie's many fictional characters and inside jokes. The Soul was an intangible being that was a part of Bungie's website for almost 15 years until the website's relaunch in 2013.
Origin
The origin of the Disembodied Soul goes one of the two ways based on a Letter to the Webmaster in 1997[1], an interview with the Soul itself in 2003[2], and a trivia contest[3] at Bungie FanFest IV in 2001: The Soul is either the soul of the person who pirated and leaked one of Marathon's betas, or is the soul of a person who printed the wrong labels and applied them to 1500 Marathon: Infinity's CDs. Based on the Letter to the Webmaster and the interview, it's probably the latter since the Webmaster and Sketch go into detail on how the soul of the person was extracted:
"Why is my Marathon Infinity CD half black and half yellow when the rest of the world's is half grey and half black?" - Sam Miller
"It was a printing mix-up. There were only about 1500 of the yellow-and-black infinity CDs printed before we burst into the CD pressing plant, captured the idiot responsible and sucked his soul into our web server, where he will answer tech support questions in his incredibly brain-dead fashion 24 hours a day for all eternity. Please feel free to torment him whenever you like. As for the CD, think of it as a limited edition." - The Webmaster
In the February 2003 article,[2][4][5] Sketch mentioned that he helped hold the Soul's former self down while employees at Bungie used a "soul-extraction machine."
Duties on Bungie's Website
2000-2001
Around the year 2000, Bungie.net was not yet running WTML (Wizard-Type Magical Language) and it required a 24/7 online team to monitor the site and answer any questions submitted to the Help section. To help answer basic questions, an "answer bot" was created that included some of the Soul's personality. It was given the title "Emotional Support" and the way it goes about supporting others emotionally is by being the lowest common denominator (which is beyond its will or control). Its presence alone helps other people feel better about themselves as it is not an ideal member.
When the support site was discarded, Matt Smith (poena.dare) and Gholsbane collected all of the triggers and responses when the "Swift Hands of God" fanclub was active and recreated it as a simulator.[6] Duardo now owns the simulator,[7] which can be found here.
Bungie never released a complete list of what keywords the Soul responded to. Because of this, there are some responses which were never archived, and no record now exists of what the Soul said in those cases. Keywords for which the responses were lost include:
Also, the Soul originally gave hints on beating the Marathon series levels G4 Sunbathing, Ex Cathedra, Nuke and Pave, and Six Thousand Feet Under.
2004-2013
From 2004-2013, the Disembodied Soul's primary responsibility was sending out forum warnings and blacklisting notifications handed out by the Forum Ninjas. The Soul would also be able to detect if someone was circumventing a forum ban if the user didn't clear their browser's cookies and cache, instantly banning the person again.
In any Halo 3 Post-Game Carnage Report on Bungie.net without screenshots, a picture of the Disembodied Soul is displayed over the thumbnails place.[11]
2007 and 2011 Promotions
On May 2007, select users on Bungie.net were invited to participate in Bungie's Halo 3 Friends and Family Public Beta via a private message from the Disembodied Soul.[12][13][14]
Subject: Welcome to the Halo 3 Friends and Family Public Beta!
Disembodied Soul Emotional Support Sent: 5/11/2007
Welcome to the Bungie Friends & Family Halo 3 beta!
In order to play the Halo 3 Multiplayer Beta, you will need an Xbox 360 with a hard drive and an Xbox LIVE Gold account.
Your beta download code is: BRXG9-WXJ72-PJMJ9-W8XMW-FXYDW
This code will allow you to download the Halo 3 Beta to one Xbox 360 console, one time.
Instructions for installing and launching the beta are below:
1. Turn on your Xbox 360 and sign-in with your Xbox LIVE Gold account 2. Select "Marketplace" from the Xbox LIVE dashboard 3. Select the "Redeem Code" option 4. Enter a beta download code 5. Once the download completes, navigate to the "Games" blade of the dashboard 6. Select "Demos and More" 7. Select and launch the Halo 3 Multiplayer Beta!
The initial download may take some time depending on network traffic and your own internet connection. Please be patient.
Please note that the Halo 3 beta only supports Matchmaking play over Xbox Live. You will not be able to play any custom games or play in offline/system link matches. You can, however, play with a friend in split-screen games in the Social playlists.
You can visit our website and interact with other beta participants and leave feedback for Bungie in our forum located at http://www.bungie.net/Forums/Halo3Beta. This forum will be active as of Friday 5/11. Staring Tuesday, 5/15, we will have a wealth of information available to give you an edge against the online competition. Bungie.net will also give you a chance to review a sampling of post-game statistics from the matches you play online.
If you have problems or need assistance please visit the Bungie.net forum listed above. Do not respond this message, the Soul isn't listening.
Thank you and have fun playing the Halo 3 Multiplayer Beta!
Sincerely,
The Bungie Team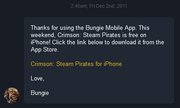 On December 2, 2011,[15] the Disembodied Soul sent out a private message to all to users of Bungie.net. The PM thanked everyone who used the Bungie app, and mentioned that Crimson: Steam Pirates was free that weekend.
"Thanks for using the Bungie Mobile App. This weekend, Crimson: Steam Pirates is free on iPhone! Click the link below to download it from the App Store.
Crimson: Steam Pirates for iPhone
Love,
Bungie"
Forum Posts
In his years as a Bungie.net member, Disembodied Soul has only posted in the Bungie.net public forums exactly seven times. Each post is a cryptic one-liner that typically receives a huge and warm reaction from the Bungie Community.
Here are the full contents of all of Disembodied Soul's posts on Bungie.net.
August 12, 2004: "I don't think that means what you think it means."[citation lost due to thread deletion]
August 27, 2004: "I think you're trying to fool me. It won't work."[16]
February 18, 2005: "I don't think that means what you think it means."[17]
April 28, 2006: "That does not mean what you think it means."[18]
March 20, 2008: "I see fire and I see flames. I see evil people all strung up in chains."[19]
April 1, 2008: "That was before he entered the federal witness protection program."[20]
Gallery
Trivia
External Links
Resources