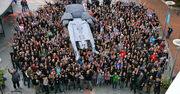 Becoming a Bungie employee is not just another job. For the people who work at Bungie, it is the opportunity to create AAA-caliber games in a fast-paced, collaborative, fun, and historic environment. Full-time jobs at Bungie are among the most sought-after in the gaming industry, and as a result the employees who make it through the grueling interview process are counted as being among the best-of-the-best in game development.
Bungie updates its public list of employees infrequently. This list of employees is based on publicly available information taken from a variety of sources, but as a result, may be out-of-date.
Looking for more employee information? Try Classification of Employees and Employee Anniversary Gifts.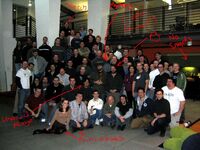 Founders
Notable Current Employees
(alphabetical by last name)
Cozmo
Curtis Creamer
Mark Noseworthy
Jason Sussman
Luis Villegas
Notable Former Employees
(alphabetical by last name)
Doug Boyce (Harpo)
Frank Capezzuto 3 (Quick Question)
Hamilton "sir" Chu
Andrew G Davis (TinMan)
Vic DeLeon
Jonas "David" Eneroth
Jamie Evans
Aaron Lieberman (Lieb)
Matt Segur
Rob Stokes (Lips)
Peter Tamte